StudioCloud Is For Videographers
StudioCloud provides videographers with business managment software designed to meet their business needs.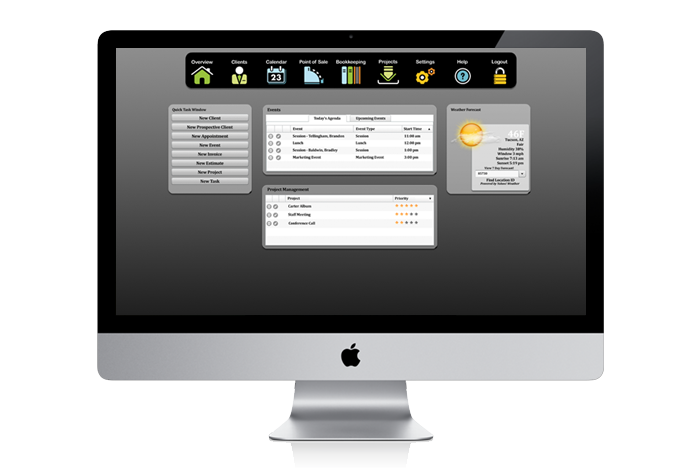 StudioCloud Videographer Specific Features
StudioCloud has a videographer focused invoicing system with price lists, packages, products and services
The scheduling is integrated with the invoicing to reduce double entry and to just make your life easier
The calendar is designed for videographers, assistants, equipment and locations*
Stop no shows by letting StudioCloud automatically remind your clients of their appointments for you*
Use the customizable invoices to maintain your studio's unique brand
Get your money faster by allowing your customers to pay you anytime, anywhere*,**
Use StudioCloud's built in marketing campaigns to make more money
Connect with your client by remembering important family details using the relationship tracker
Use the referral tracking system to identify your best referral sources and grow your business

More Features For Event & Wedding Videography
StudioCloud offers event videographers an integrated solution to handle all of their business needs.
Access your business information anywhere you have internet
Calendar filters make it easy to schedule videographers, photographers, assistants, sales reps, equipment, and locations*
Use price lists to quickly switch between different product lines and prices
Built in prospective client tracking helps convert leads to paying customers.
Easily track everyone who is attending the event or wedding with StudioClouds relationship tracker
Use the built in payment plan creator to entice your clients to order more.
Create quotes and easily convert them to invoices with a click of a button.
Track event or wedding deliverables using StudioCloud's automated project management tools.
Use StudioCloud's built in alerts to notify you of upcoming project and task deadlines.
Quickly generate prepopulated event or wedding contracts using the document generator and have them eSigned.***
Never lose important files or images. Attach them directly to clients, appointments, photo shoots, projects or tasks using cloud storage.
---
* Requires the EmployeeBoost add-on.Learn More Here
** Requires a Merchant Warehouse account. Learn More Here
*** eSignature services require a free third party service. Learn More Here
StudioCloud, It's Just that Easy!